Home>Media>NOROO News
NOROO News
NOROO presents 'TIDES' by Kwangho Lee x Wang&Söderström
8.4.2019
1. About 'TIDES' Exhibition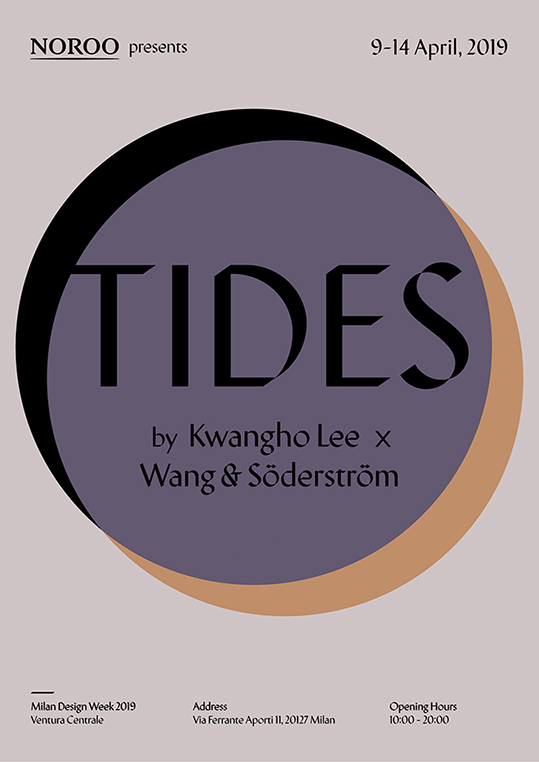 TIDES Exhibition Key Visual Image
The exhibition takes inspiration from the complex dance of gravity between the Moon, Earth and Sun that gives us tides. During a low tide the water pulls away and reveals
a hidden landscape of reflecting puddles and curious shapes.A temporary experience where time, color and light becomes fluid like the ocean. 'Tides' showcases 100 stools by Kwangho Lee from the 'The Moment of Eclipse' series.
Each eclipse shaped stool creates a with the next stool which forms chains of endless variations. Through an abstract low tide landscape Wang & Söderström presents an otherworldly landscape where the visitors can take a low tide walk in changing light
and colors, reflect themselves in the puddles and discover objects and sculptures on uncommon ground. A tribute to the moon and the powerful rhythms in nature.
2. About Kwangho lee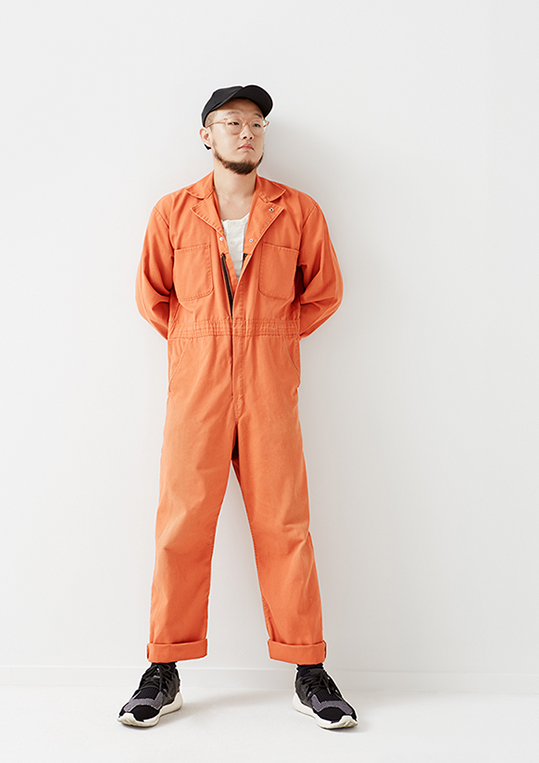 Kwangho Lee_ Furniture Designer
Making things by hand was a great joy as a child, which seems to be inherited from his grandfather who was a farmer, constantly hand-made daily household goods from natural materials found nearby. Kwangho Lee appreciated the way he looked at everyday
objects and thus began to approach things in similar ways; to give new meaning and function to the most ordinary. Today, as he continuously presents new series of works, his approach has made some developments which are indepth discoveries of moments when materials join another.
Education
BA Metal Art & Design | HongikUniversity | Korea
Prize & Experience
2017
Designer of the year –MADE, Sao Paulo
2014
Young talent award(shortlist), Milan
Young craftsman of the year, Yeol–Society for Korean Cultural heritage, Seoul
2011
Artist of the year, Korean Ministry of Culture,Seoul
2009
Designer of the future(nomination), Design Maiami/Basel, basel
In the collection
M + museum, HongKong
Daegu Art Museum, Daegu, Korea
San Francisco Museum of Modern Art, Sanfrancisco
The Monstreal Museum of Fine Arts, Montreal
Leeum, Seoul
Maas Museum, Sydney
Swarovski Crystal Museum, Austria
Contact Information
Website: www.kwangholee.com
Instagram: _kwangho_lee
Email: info.kwangholee@gmail.com
3. About Wang & Söderström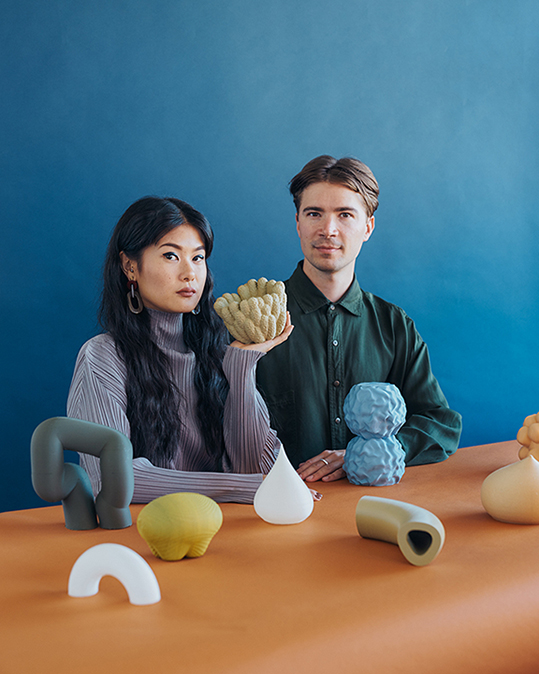 Wang & Söderström_ Spatial / Furniture Designer, Architect
Wang & Söderström is a Copenhagen based interdisciplinary studio with a focus on digital/physical exploration. The studio strives to create mind tickling and unexpected experiences through materiality and technology. Wang & Söderström is comprised of Swedish spatial/ furniture designer Anny Wang and architect Tim Söderström.
The bridging of the physical and digital realms is a major theme in their work and they are constantly trying to challenge the boundaries between them. Utilising the best of both worlds and the technology of our time to shape tomorrow's visual and spatial experiences.
The studio wants to throw out pre-existing conventions regarding the digital, emphasising the emotional and tactile side of materials, objects and textures to give the digital a more human, relatable quality and create more meaningful connections.
Wang & Söderström's work has been realized on international range with commissioned work for renowned cultural institutions, leading fashion brands and some of the largest media and communication platforms.
Education
BA Fine Arts in Design | HDK -School of Design and Crafts | Sweden
Prize & Experience
2018
'What Matter_s' —Group Exhibition. Dutch Design Week, Veem, Floor, Netherlands
'SANO X WANG & SÖDERSTRÖM' —Exhibition. Antenne. Copenhagen, Denmark
'Still "Life" ' —Group Exhibition. Mars on Venus Gallery. Tel Aviv, Israel
'The Senses: Design Beyond Vision' —Group Exhibition. Cooper Hewit, New York
2017
'Transitional Speculation'—Solo Exhibition. Volvo Studio Stockholm-Stockholm, Sweden
'Blip Blub Hub' —Art Installation. Made In Space by SPACE10 and ArtRebel, Copenhagen
Sayhito'Natural Elements Meets Lustrous Futurism' —Group Exhibition. Atelier Meraki, Paris
'Rooftop Screenings' —Pop-up Exhibition. MicimpactSquar. Seoul, South Korea
'Homecoming Queen' —Group Exhibition. ÖsterängensKonsthal. Jönköping, Sweden
'Pro Cicerone' —Group Exhibition. Little Finger Gallery. Malmö, Sweden
Contact infomation
Website: http://wangsoderstrom.com/
Instagram: @wangsoderstrom
Email: contact@wangsoderstrom.com
Phone: +45 53 81 81 76
4. About NOROO Group
NOROO has been a key player in the history of the Korean chemical industry since its establishment in 1945.
Based on the color know-how and technology hardened for 74 years, NOROO Group hosts the largest annual Color Trend Show in Asia, called NOROO International Color Trend Show (NCTS), inviting various renowned influencers from all around the world to imbue color and design industries with creative and novel inspiration.
We presented an international color seminar in the theme of 'Essence' at the NCTS 2019 last year, thereafter we held the special launch exhibition for the Color Trend Book, called COVER ALL, in Ginza Six, Tokyo, Japan.
While we unveiled the precedent launch exhibition stating the eternal beauty of objects and matters through Essence theme, we presents the original and epic spatial design in the theme of "TIDES" inspired by Mother Nature at the Ventura Centrale during the Milan Design Week, which is in the parallel with the conception of 'Essence'.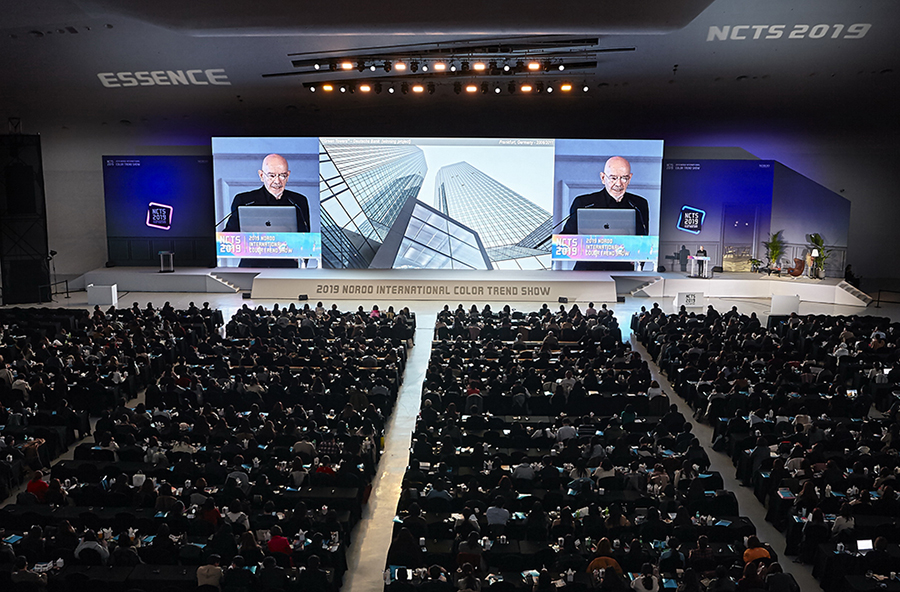 NOROO International Color Trend Show(NCTS 2019)

Trend Book-Cover All Launching Exhibition, Ginza 6, Tokyo
NOROO Group
Website: www.norooholdings.com
NCTS info: http://norooholdings.com/en/media/?pIdx=trendShow&B_Name=center&b_dir=bbs&b_url=ncts_list&category=ncts_en
instagram: @ncts_official
Business Area
Chemicals / Agriculture / Distribution / Consulting & Design
List